Saturday, May 6th 2017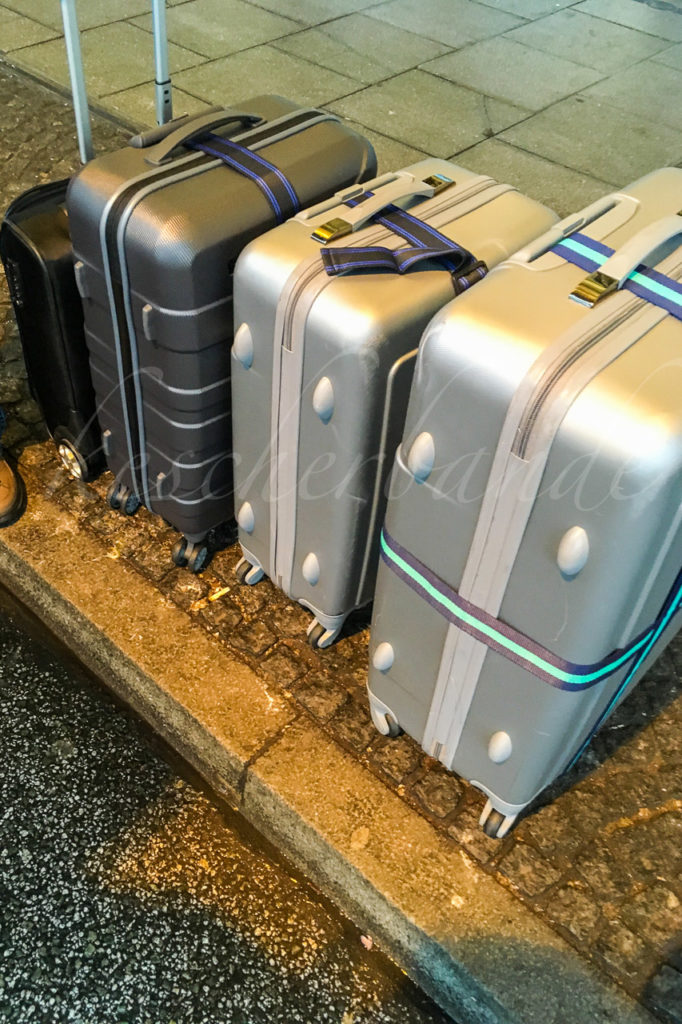 Leaving on a jetplane
After a year of planning, today is the day. Our bags are packed, we are ready to go, we are standing here outside our door, when at 5am a good friend picked us up to not only say goodbye but take us to the airport in Hamburg. I can't help it but I get this earwig prior to every overseas travel. As usual we were at the airport way too early. Since we were already checked in we just needed to get rid of our baggage at one of the self-service bag drops which took only minutes. Next stop was the security check but at just minutes past 6am on a Saturday there was no considerable waiting time. As expected I had to open the cabin baggage for a second screening. There were just too much lenses, cameras and other electronics in there. We had plenty of time so this slight delay didn't bother us. After the security check was completed we still had about 90 minutes until departure.
The first flight leg was a short hop with an A321 to Munich. Everything was on time and we even arrived in Munich some minutes early. We now had about 2,5 hours to get to our departure gate for the long distance flight. We needed 15 minutes and were way too early again. The second security check for flights to the United States wasn't even open so we had to wait outside of the international gates. The check later was just another passport check and minutes later we sat again now at our departure gate. Our Lufthansa Airbus A340-600 that would soon take us to Denver was already waiting outside.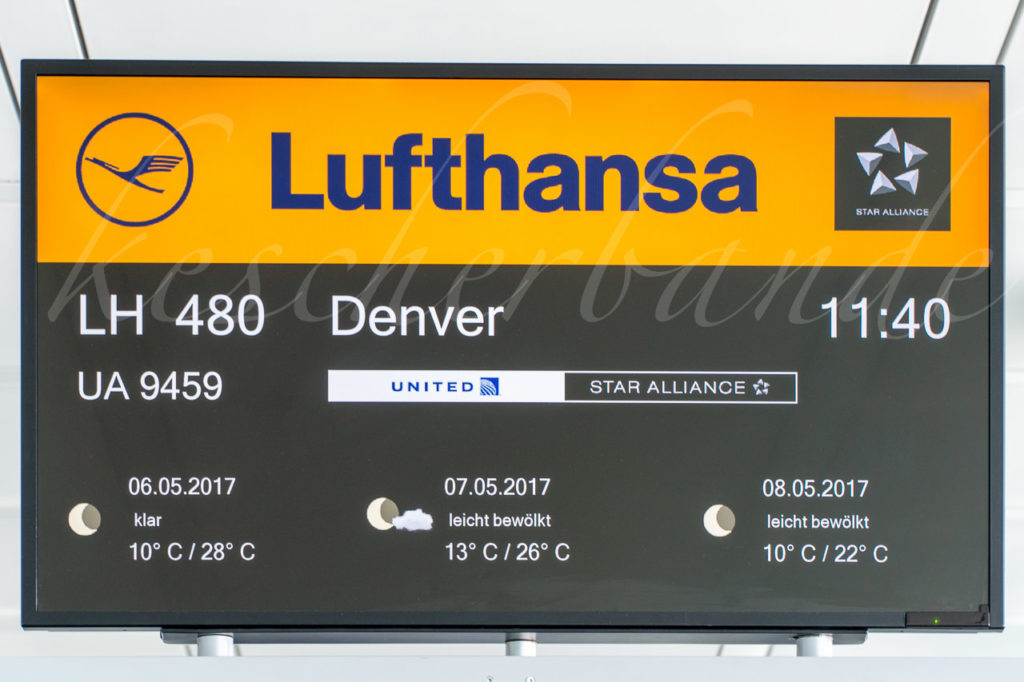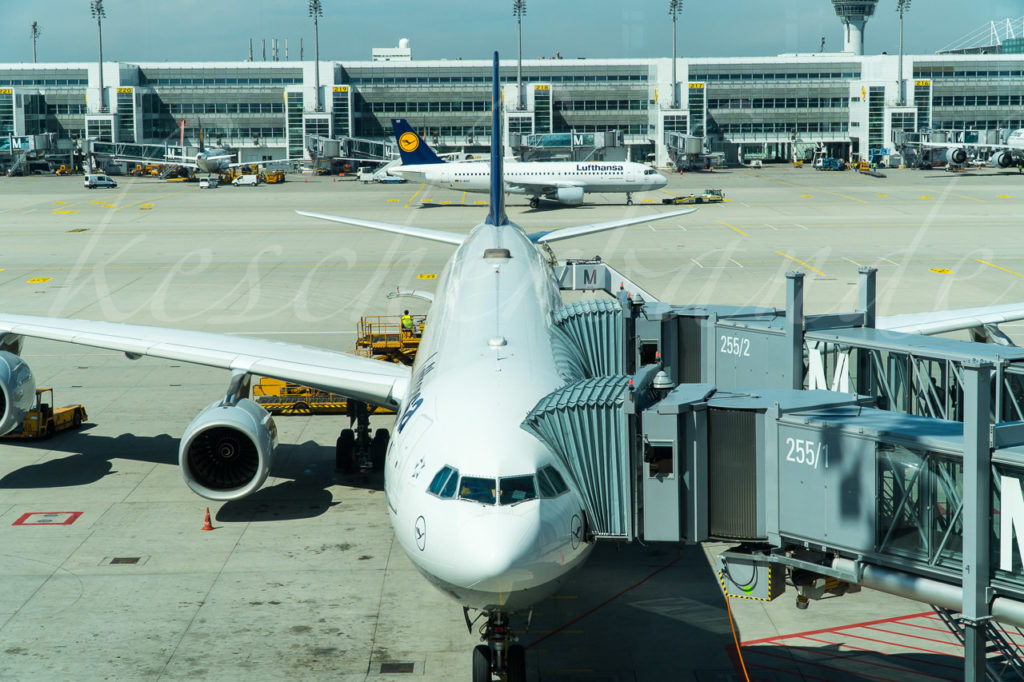 Once inside we were greeted with a little welcome drink – orange juice with mint leaves – and plenty of leg space. We were flying Premium Economy this time and additionally had seats in an exit row. So even when stretching out my legs I wasn't able to reach the seat in front of me. Very comfortable.
| | |
| --- | --- |
| | |
Only a short time after take off the first round of cabin service brought the tomato juice, a mandatory ritual once on each long distance flight :) About an our after we had reached cruising altitude lunch was served. We had fried chicken breast with Arrabbiata sauce, eggplant zucchini ragout and creamy polenta with Crème brûlée as dessert (left picture). Later on tenderloin of beef strips with creamy herb sauce accompanied by stewed green peas, carrots and mashed potatoes with strawberry yogurt pie as dessert was served for dinner (right picture).
| | |
| --- | --- |
| | |
With a book, a little bit of sleep and some movies in the in-flight entertainment time literally flew by. We arrived in Denver on time at 2:15pm and made it from stepping out of the plane through immigration in a mere 20 minutes – too fast for our baggage which took us waiting for another 25 minutes. Finally we were out of the airport and on the shuttle to the Alamo station. The guy at the counter tried his best to sell us all kinds of upgrades he could think of. Roadside assistance? No thanks. SiriusXM radio? No thanks. But how will you listen to music? Not your problem, just get us the car. How about a Grand Cherokee? You will want a V6 when driving through the mountains. Yes, that would have been nice, but not for an additional seventeen dollars a day which would have amounted to 50 percent on top of our already paid voucher. So again, no thanks. Finally we got to the choice line which consisted of two Hyundai Santa Fe and two Dodge Journey. After checking all cars we decided for the silver Dodge. We could fit all suitcases in the trunk and it had a roof railing where I intended to secure the GoPro when mounted on the car.
When we activated the routing to our first hotel in the navigation system it was official: The road trip was about to start. The short drive to Fort Morgan was smooth, only about 80 miles to get to know the car a little. At 5pm we checked in at the hotel and freshened up a bit before we went on to shop for some essentials at Safeway and Walmart. Equipped with water, some basic food items, some disposable tableware and a cooling box we were now ready for the next leg of the trip.